Release notes - March 2023
23.3 includes these enhancements:
Watch Status panel
Hybrid WAN chart
SD-WAN Pending
A Watch Status card is a summarised view of a watch. Clicking on the card opens the watch details page.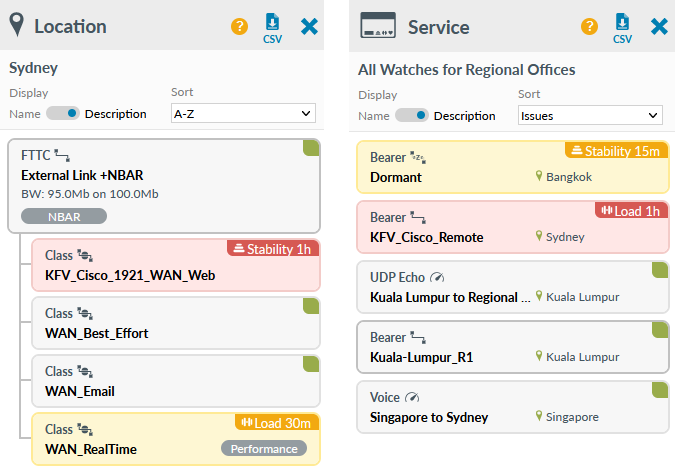 Watch Status cards appear when you click on a heat tile or grid row and show:
The Red/Amber/Green state of watches in location or service tile
Stability/Load/Health issue reason with duration
A clear relationship between parent bearer and VLANs or classes
A coloured badge summarising the status of all performance tests under a bearer
Badges for Flow/NBAR/Clarity/Performance which jump to the feature section of the details page
Find out more about the Watch Status panel.

See the split of recent traffic at a location.
Find out more about Hybrid WAN.
Showing watches in the Pending state enables an admin user in the service provider to configure and manage the SD-WAN estate before it goes live. They can add detailed descriptions and references – data which is needed by an ITSM tool when parsing any alerts.

Find out more about SD-WAN pending.
Details page: Issue fixed where Meraki SD-WAN uplinks were missing data on the traffic load chart
More details on all of Highlight's features are available on the Help & Support Centre or contact us for assistance.